Sow Seeds Mechanically With Next-Gen Hand Rice Transplanters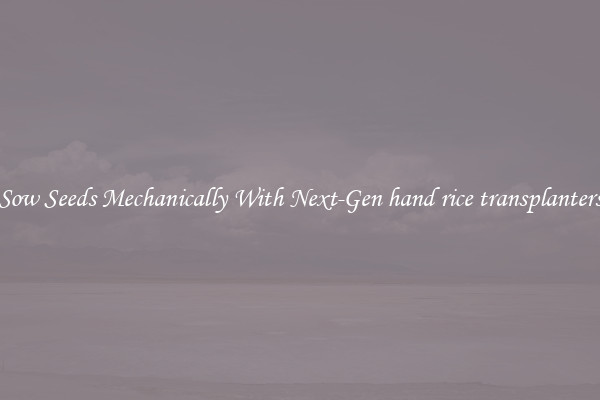 Agriculture has come a long way. With advancements in technology, farmers are now equipped with tools and machines that make their work more efficient and productive. One such innovation is the next-gen hand rice transplanters, which allow farmers to sow seeds mechanically, making the process easier and quicker.
Traditionally, rice transplantation was done manually, where farmers had to bend over, pick up seedlings, and transplant them into the field one by one. This labor-intensive process not only required a lot of time and effort but also led to increased costs due to the need for a large workforce. However, with the advent of hand rice transplanters, farmers can automate the sowing process and reduce the dependency on manual labor.
Hand rice transplanters are designed to mimic the manual sowing process. They consist of a seedling tray, handle, and plunger. The seedlings are placed in the tray, and the handle, which is connected to the plunger, is used to push the seedlings into the soil at the desired depth and spacing. This eliminates the need for farmers to bend over, saving them from backaches and other physical strains associated with manual transplantation.
One of the key advantages of hand rice transplanters is their ability to sow seeds uniformly and precisely. The machines are equipped with adjustable settings that allow farmers to control the depth and spacing of the seedlings. This ensures that the plants receive sufficient space and nutrients to grow properly, resulting in healthier crops and higher yields. Moreover, the mechanical sowing process reduces the risk of overcrowding and allows for better air circulation and sunlight exposure, further enhancing plant growth.
The time-saving aspect of hand rice transplanters cannot be overlooked. With manual transplantation, it would take several days for a team of workers to transplant a large field. However, with the introduction of mechanical sowing, this tedious task can be completed in a matter of hours. This not only saves valuable time but also enables farmers to sow seeds at the most optimum time, leading to better crop establishment and higher chances of success.
Additionally, hand rice transplanters help reduce the reliance on manual labor, which is becoming increasingly scarce in many regions. With more people moving towards urban areas and seeking alternative employment opportunities, finding a sufficient workforce for agricultural tasks is becoming challenging. By introducing hand rice transplanters, farmers can achieve higher efficiency and productivity even with a smaller labor force.
In conclusion, hand rice transplanters have revolutionized the way seeds are sown in paddy fields. These next-gen machines offer numerous benefits, including increased efficiency, precision, and productivity. They have not only made the sowing process easier and quicker but also eliminated the risks associated with manual labor. With the adoption of such innovations, farmers can harness the power of technology and secure a sustainable future for agriculture.